Curried Zucchini Soup Recipe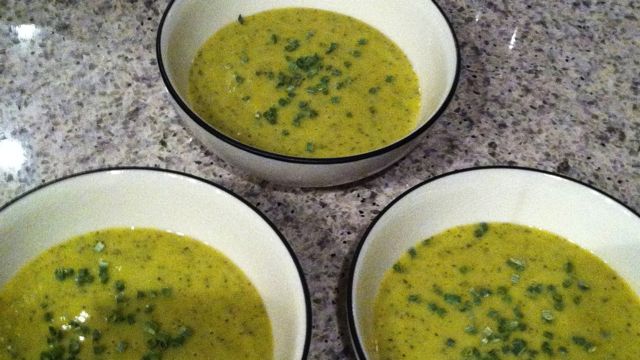 My favorite soup to date. One of the recipes from The Essential New York Cookbook that we have made and enjoyed. The soup is best made in the summer with in-season baby zucchinis.
Ingredients
6 small zucchini, chopped

1 large onion, thinly sliced

1 tablespoon fresh ginger root, grated

1 1/2 teaspoons curry powder

1/2 teaspoon dry mustard

3 cups chicken broth

3 tablespoons raw rice

1 1/2 cups whole milk

sea salt

black pepper, freshly ground

chives, minced
Directions
Combine the zucchini, onion, ginger, curry powder, and mustard in a saucepan, add the chicken broth and rice, and bring to a boil. Cover and simmer for about 45 minutes.
Puree the mixture with an immersion blender. Add the milk and season with salt and pepper. Chill thoroughly or serve hot. Garnish with chives.
Source

The Essential New York Times Cookbook: Classic Recipes for a New Century