Tangy Braised Cabbage Recipe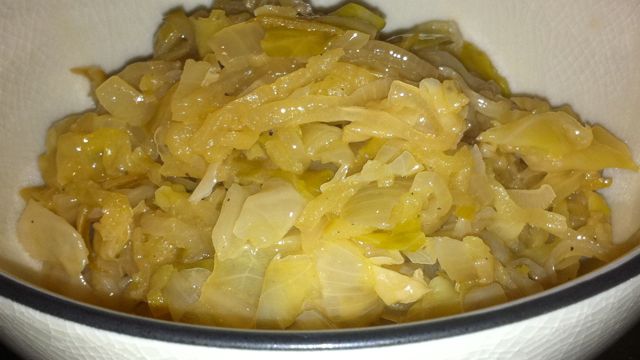 A healthy and delicious side dish.
Ingredients
8 tablespoons butter

2 tablespoons mirin

2 large onion, quartered and thinly sliced

2 large tart apple, peeled, cored, finely diced

1 head of cabbage, coarsely chopped or shredded, about 8 cups

1/2 teaspoon freshly ground black pepper

5 tablespoons brown rice vinegar

1 tablespoon apple cider vinegar

salt, to taste
Directions
In a Dutch oven, heat butter over low heat; add onion and apple; sauté for about 7 to 10 minutes, or until soft. Add cabbage, pepper, vinegar, and mirin; toss to blend well.
Cover tightly and place in over for 30 minutes at 425 ℉. Reduce heat to 375 ℉ and bake for another hour, or until the cabbage is thoroughly tender; stir occasionally as it cooks. Add salt to taste.
Source

Southern Food - http://southernfood.about.com/od/cabbagerecipes/r/bl70115a.htm